Welcome to BlackBird Farm

"Lettuce" tell you how it all started!
---
We are so excited to welcome you to our farm.
Our primary system is Deep Water Culture Aquaponics.
We feed the fish, they feed our plants, and our plants clean the water for the fish.
The result is nutrient dense – chemical free – delicious produce for you.
Community
2023 will be our second market season, and we could not be more excited. There are big plans for the farm this season and big challenges. Investments centered around field crop additions to add move vegetables to our roster. Our herd of Nubian goats are slowly growing. There are applications in for grants for high tunnels, and the Flower Patch at Blackbird is underway.
Our goal remains to get good food to people at fair prices, and provide jobs, income, and support to our community when/where possible.
We have met so many of you face to face, and look forward to your visits.
We do farm tours, group events, and welcome visitors of all ages.
The Event space has officially opened to book your party!
We ask that you please contact us to schedule a visit, or to let us know you are coming by to pick up some produce. The farm is not open to the public 24/7 and is a working farm, so we may not always be right at the greenhouse.
Please see the FARM PAGE for other things happening.
Phone : (229) 279-9825
hello@bbfga.com
CSA
Our primary crops inside the greenhouse are leafy lettuce greens and some herbs like basil. 2023 will be our first CSA season. We are targeting pick up locations in Columbus, Buena Vista and Atlanta. If you would like to be a porch host we offer a discount if you can get 5 neighbors who will pick up their boxes on your porch.
Please contact Charity with your inquiry either by email or phone.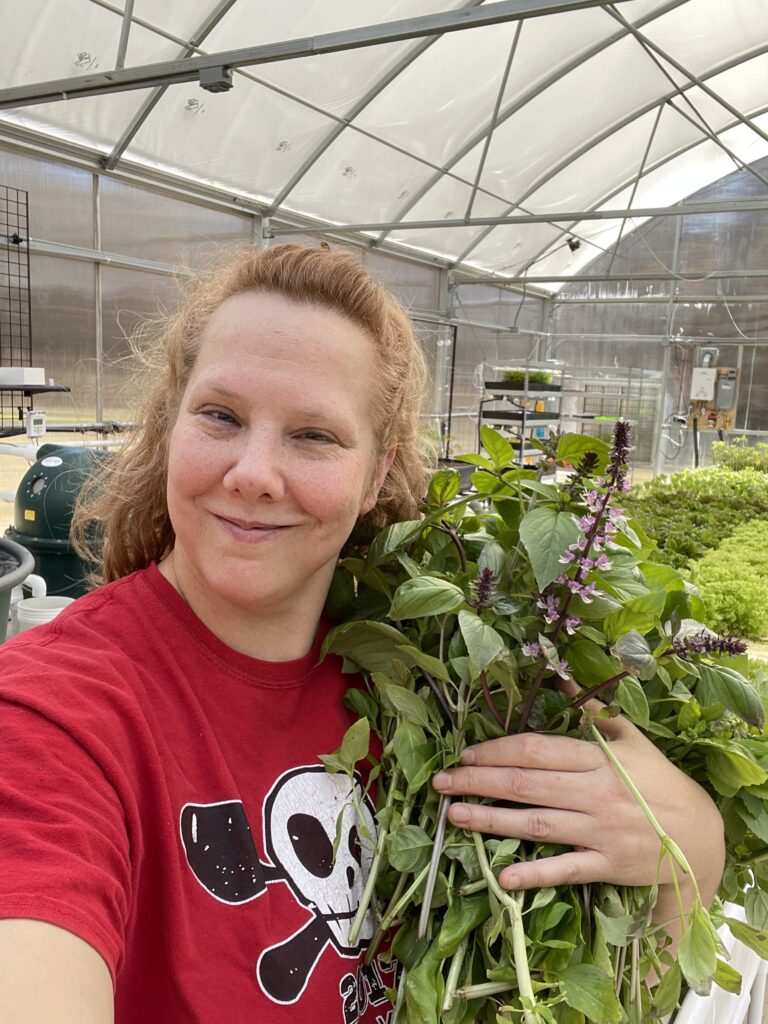 ---
Charity
Chicken whisperer and farm animal Dr. Doolittle. I love blossoms, honeybees, and making sure our guests enjoy every aspect of our farm. Agriculture was not a family thing, or generational experience. Although I am an equestrian and had extended family that had farms, I didn't "grow up in the biz". The support from the community of farmers, homesteaders, and market gardeners, has been tremendous. I really look forward to giving back to help the next generation of growers.
I work on testing new crop varieties and creating better soil health year over year. Regenerative practice has been a buzz word, but is really the foundation for growing well and growing better.
This year I am expanding into cut flowers for boquets and florist.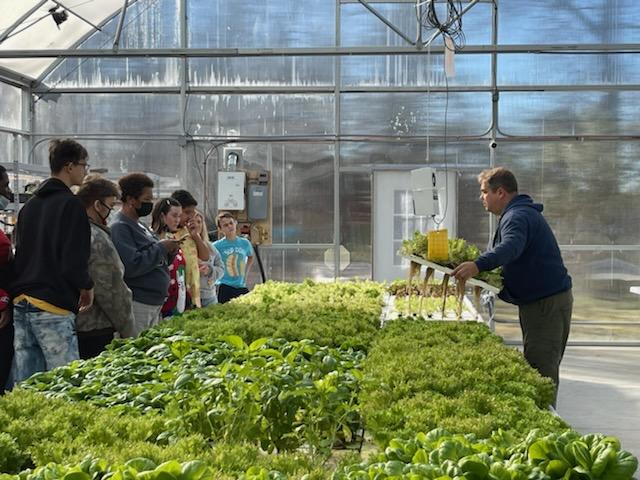 ---
Jeff
Our Brains, Jeff truly has built our systems by hand. In the middle of the Georgia heat he stood on a tractor, a pallet, and a ladder to hand install our greenhouse framework. When our neighbors could help they came and climbed scaffolding with him to build the center of our practice in that building.
Jeff's family came from the mountains of northern Georgia and rural areas, but were not farmers by trade. Growing their own food however instilled the need for sustainability, giving, and preserving that way of life. He is passionate about science, seeing our plants thrive, and looking for new ways to introduce sustainability. He found Aquaponics a great way to combine our passion and purpose.
GREENHOUSE
---
The Lettuce
We grow a variety of butter and sweet crisp as well as mini romaine. The rafts are suited for smaller leafy greens such as Bibb types. We have trialed everything from kale, chard, herbs, and even peppers.
There is a formula and balance to what we do inside the greenhouse. Every nutrient has to be specific for the plants and fish to remain happy. We don't use pesticides or chemical bug control methods. The fish feed the lettuce with their waste.
DEEP WATER CULTURE
---
The Fish
We have Tilapia, Channel Catfish, and Freshwater Prawns.
They live in two 500-gallon tanks and are currently growing bigger every day. Having them separated allows us to monitor their performance and health.
Tilapia are considered an invasive species here in Georgia and can not go "outside". All of our systems are sealed, no water leaves, so no fish eggs can either.
When the fish do leave, they will be headed for your table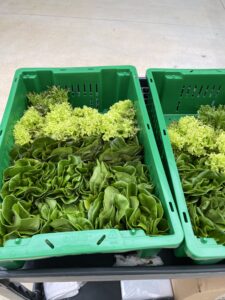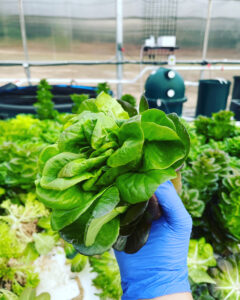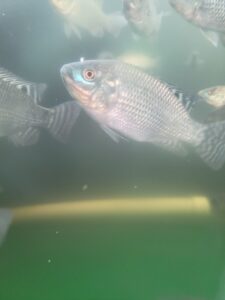 2023 Markets
Find us at the following Farmer's Markets
The Lodge At Blackbird
Plan your celebrations with us
Camping
Come stay on the farm